Hurricane Pre-Planning for your dog's safety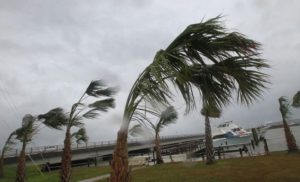 "Fortune favors the prepared."
This quote is undoubtedly accurate when going through an emergency with your pets. Hurricane season can get stressful, really quick. Still, you can prevent possible issues by ensuring that you have an emergency plan prepared for your pets. Construct a list of pet-friendly hotels (if you need to evacuate), needed supplies, and essential training tips to ensure weathering the storm will be more comfortable. Here is a list of things to get you started:
Hurricane Kit For Your Dog

Waterproof Container to Store Supplies

Copies of Medical Records

Copy of Rabies Certificate

Copy of Dog License

Emergency Contact Information

Proof of Ownership and Microchip Info

One Week Supply of Food

One Week Supply of Water

Bowls (We recommend collapsible.)

Flea/Tick and Heartworm Prevention

First Aid Kit with Extras of Any Prescription Medication or Supplements

Leash, Collar, ID Tags

Busy Toys (Kongs, Nylabones, Bully Sticks

Crate/Kennel
When preparing your supplies, keep in mind the various situations you and your pet could experience. Some dogs get panicked when traveling or in storms, so a standard buckle collar and leash combo could be risky if your dog gets spooked and slips out of the collar. A slip leash or martingale collar would be the better choice.
Staying Put
If you know that a hurricane is coming and decide to stay home, consider some things for your pet. Power may go out for extended periods, which can impact your dog's daily life. If you have a dog who is not tolerant of the heat, you should invest in some battery-powered fans to help keep your pet cooled. If you are feeding a canned diet and use an electric can opener, you should also have a manual one on hand in case of a power outage. Those who feed raw or home-cooked meals should keep freeze-dried food in their hurricane kit if refrigeration is no longer an option.
Another thing to consider is that your dog may not be able to go outside to potty during the height of the storm. There are a few solutions to this. If the projections of the storm say it is going to pass through quickly, take your dog out before the weather turns bad. Then do not let the dog outside again until it's safe. Do NOT take your dog out unless you are sure the storm has passed. There will be a break during the eye of the storm, and sometimes between bands, the rain will let up, but you do not want to be caught outside with your pet if a significant wind gust hits. You can also put a kiddie pool or playpen in your house or garage and line it with AstroTurf or pee pads as an option for your dog to go potty during the storm. Prepare and train this in advance so you are not rushing in the days leading up to the hurricane.
Leaving Town
Suppose you are planning on evacuating with your dog. Reserve a place to go in advance. Not all hotels and shelters are pet-friendly, so confirm the one you plan on using will allow dogs. If you plan to stay at a hotel or hostel, make sure that you have extra copies of all of your dog's vaccine information, as it will often be required. Always travel with a familiar and sturdy crate that your dog recognizes.
Make sure that your dog is comfortable in the car before any long road trips. We strongly recommend using travel crates or dog seat belt harnesses when traveling, especially with the added stress during an evacuation. Restrained dogs are less distracting, safer in a crash, and far less likely to accidentally bolt out of the car when you stop at gas stations and rest stops. Long traveling in the vehicle is another situation where battery-powered fans can be a good investment. Many people suffered from heat-related issues during the evacuation before Hurricane Rita while stuck in gridlock for hours. Having fans on hand can help prevent these issues for both you and your dog.
Discuss in advance with family or friends if they would be okay with you bringing your dog during an evacuation for a hurricane. Talking before could prevent awkward tension rather than you assuming they wouldn't mind. If you want to leave town but cannot bring your dog with you, be aware that boarding facilities may not offer new clients, and many will fill quickly. Planning will prevent you from being in a situation where you have to deal with that eventuality.
These are essential things to keep in mind when hurricane season is around the corner. Planning ahead of time can save lots of stress and even heartbreak in the event of a natural disaster. In the next post of this series, we will cover training that you can do to make a storm season easier for you and your dog.