In the summer of 2022, St. Petersburg, Florida, was named America's number-one dog-friendly city. Its sister city, Tampa, finished third in the rankings, making Tampa Bay a competitive destination for doggy locals and tourists alike.
Just what makes Tampa Bay a dog-lovers paradise? Well, besides the year-round sunshine, stunning beaches, and rapidly growing urban life, Tampa Bay boasts many dog-friendly destinations and activities. St. Pete alone reported a staggering 134 dog-friendly restaurants last year!
Don't know where to start? Let us help you! Besides a dog-friendly downtown, St. Pete and Tampa are hosts to a number of beautiful parks perfect for taking a stroll with your pup. If you're looking for a little more adventure, drive out of the city, and you'll encounter lush hiking trails packed with beautiful flora and fauna. If you're a fan of water, rent a paddleboard or kayak – or bring your own – and paddle through mangrove trails with your dog. Watch the sunrise from one of our many dog beaches, let your pup swim in the ocean, or take a stroll along the waterfront to enjoy the breeze. Whatever your adventure, Tampa Bay has it all.
Dog Parks
Maybe you'll notice that we didn't include dog parks on our list of dog-friendly activities in Tampa Bay. There is certainly no shortage of them in the area. However, as professional trainers, we don't recommend dog parks to our clients. There are numerous safety and training issues with dog parks, and it is our duty to ensure we're giving safe, reputable advice to dog owners – whether they're clients or not. There are ways in which we use dog parks in our training, but not in the way you may think. To learn more, watch our video on using dog parks for socialization:
For the Adventure Dog
If you love adventuring with your dog, you'll love these offerings from Tampa Bay. While Florida can't boast other states' mountains and forests, it offers hiking trails and plenty of fun in the ocean. Our mild winter makes for a long adventure season, with moderate temperatures and infrequent bugs. Locals know the joy of embracing Florida's unique climate and getting out in the sunshine all year round.
Dog-Friendly Hiking in Tampa Bay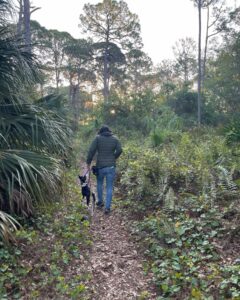 From pine forests to sandy scrub, a wide variety of ecosystems can be explored in Florida's State and County Parks. While you may have to travel outside of Tampa Bay to get the best trails, it's a quick trip from urban to wild. Just a half-hour outside the city, and you'll start to see picturesque stretches of untouched land, our local farms spread in between.
Here are a few of our favorite hiking trails to let your dog stretch their legs and enjoy nature:
Little Manatee River State Park
The Red and Blue loops and the Sandpine Trails are especially well-suited for dogs. These trails will take you through various habitats, and you can easily choose your mileage and difficulty. The wide tracks are easy to follow, but there is a lot of sun exposure, so plan for the cooler parts of the day and bring plenty of water. Dogs can be off-leash in some areas of the trail, but be sure you have 100% control over your dog through an off-leash collar, as the trail is shared with horseback riders.
Alafia River Corridor
This hard-to-find trail is a veritable bounty for the avid hiker. With a large mileage, a remote location, and a shaded trail that features elevation, you'll think you've been transported to another state entirely! Dogs can be off-leash on this trail, and the lack of traffic makes it a good choice for those with more sensitive or reactive dogs.
Rye Preserve
A popular destination, Rye Preserve features a variety of trails and is an easy and enjoyable hike for you and your dog. Dogs are welcome but must be on a leash.
Hillsborough River State Park
This State Park near Tampa holds beautiful winding trails along the Hillsborough River. Take the Baynard trail and stop for a photo opp on the iconic bridge! Dogs are welcome but must be on a leash.
Trail Tips
Here are some important things to remember when hiking:
Leave No trace – Always follow leave no trace principles and leave areas better than you found them. Clean up after your dog and pack out any waste.
Practice good trail etiquette – Keep your dog under control and on the trail. Do not let them chase or harass wildlife or approach other hikers or dogs. b. https://thesavvyshepherd.com/trail-etiquette-and-dogs/
Be weather conscious – We locals know how dangerous the Florida heat can be. Ensure you have enough water for yourself and your dog, and avoid hiking in the hottest parts of the year or day.
Paddleboarding/Kayaking
Tampa Bay is a hotspot for water sports, whether it be kayaking, parasailing, paddleboarding, or boating. There are many dog-friendly kayak and paddleboard rentals, such as Salty Dog Kayak Rentals and Fort Desoto rentals. If you have your own craft, there are many places to put in with your dog. Using the app GoPaddling can help you find the best places. Remember to bring a lifejacket for your dog and ensure they are comfortable staying on your board or kayak. See https://thesavvyshepherd.com/how-to-paddleboard-with-your-dog/ for more!
Best paddling places:
1. Fort Desoto
2. Coffeepot
3. Weedon Island Preserve
4. Honeymoon Island
Beaches and Swimming
A major appeal of Tampa Bay is its beautiful beaches. We're also lucky to have a wide assortment of dog-friendly beaches, so your furry friend can join you! If you're visiting an off-leash dog beach, use your best judgment on the safety of the existing dogs and respect boundaries. Use an off-leash collar for safety and maintain space between you and other beachgoers looking to relax. Here are some of the most pup-ular dog beaches around:
Pass-a-Grille Dog Beach
This beach allows leashed dogs, making for a relaxing outing for you and your dog.
Honeymoon Island State Park Dog Beach
Another popular dog beach, it is on-leash for a safe and enjoyable experience. The State Park also boasts plenty of activities and amenities for a great day trip with the whole family!
Davis Island Dog Beach
This beach features a fenced-in area for dogs to play off-leash while requiring leashes in the rest of the park. While the off-leash nature can be unpredictable, less crowded times are excellent for letting your dog play in the surf.
Fort DeSoto Dog Beach
The most popular dog beach around, Fort Desoto features open stretches of sand and surf that dogs and people can enjoy together. While it is off-leash friendly, the open space and relaxed atmosphere make it less intense than a regular dog park. Most people and families are there to relax or play with their own dogs, so while dogs may interact, there is usually separation between groups and it's easy to find a quiet spot. Going during off-hours can net you the entire beach all to yourself!
For the Urban Dog
If you and your dog are more drawn to the bustle of city life, you're in the right place. Tampa Bay is booming with urban advancement, and the variety of dog-friendly restaurants, waterfront views, and shaded parks are sure to pique your interest.
Urban Activities
St. Pete Farmer's Market
This St. Pete staple is a hubbub of activity and dog-friendly fun. Hosted every Saturday in the heart of downtown, this market draws vendors from all over. It's a great opportunity to test your dog's obedience around distractions while supporting small local businesses.
Dog-Friendly Tampa Bay Restaurants
What better way to enjoy the beautiful weather in St. Pete than to eat outside with your dog? Here are just a few dog-friendly St. Pete restaurants, with many more around town and across the Bay in Tampa! Use www.bringfido.com/ to view more.
This cafe offers dog-friendly outdoor seating to enjoy breakfast and hand-squeezed orange juice along Beach Drive. A favorite for training, you can often spot us at Cassis practicing places and cafe manners with our training dogs.
Foodies will love this highly-rated restaurant featuring dog-friendly outdoor seating. A favorite of locals, you can't miss this place!
There's nothing better than a relaxing coffee break on your morning walk. Bring your pup along, sit outside while you sip, and enjoy the beautiful St. Pete mornings.
Craft Kafe has cornered the market on gluten-free fare with two locations in St. Petersburg. Head to the downtown location and enjoy delicious baked goods while sitting outside on their ample covered patio space. You'll see plenty of dogs lounging with their owners, making it a perfect spot for those wanting to socialize or practice their training.
If you're looking for a fine dining experience with your dog, this is the perfect restaurant for you. Their Tampa and St. Pete locations give you options for a night out on the town.
For "the quintessential St. Pete experience," check out this casual dining experience with good food and better ambiance. Bring your pup along and sit outside on the veranda to enjoy the natural surroundings and catch up with friends and family.
If you're looking for a casual waterfront dining experience in the heart of downtown, you should check out Fresco's. Situated right at the beginning of the St.Pete Pier, this restaurant boasts pet-friendly outdoor dining with amazing views.
Like many of the restaurants on Beach Drive, 400 Beach offers dog-friendly outdoor dining. Their prime location and delicious seafood will have you coming back for more.
Another Beach Drive staple, Parkshore Grill is perfect for a night of fine dining in the heart of St. Pete. Bring your dog and sit outside to enjoy the cool evening air and delicious food.
Doc Ford's Rum Bar and Grill offers dog-friendly outdoor seating with a prime waterfront view. Located on the St. Pete Pier, enjoy a casual stroll with your dog before settling down for a meal and a view of the sunset.
Sold on Beach Drive yet? This restaurant on the main drag offers good food, drink, and dog-friendly outdoor seating.
If you're looking for something unique, Two Shepherds Taproom is an indoor/outdoor dog park and bar in one! While there are inherent risks with dog parks, they do require dogs to be registered with up-to-date vaccines, appropriate age, and spay/neuter status. There is more oversight than in a casual dog park, meaning unruly dogs will be ejected, so if your dog possesses good social skills and enjoys playing with other dogs, this may be something for you.
Similar to Two Shepherds Taproom, the Dog Bar in St. Pete offers an off-leash dog park (including a pool area) and a full-service bar. They require dogs to have a membership, be up-to-date on vaccines, and be spayed or neutered if over a year of age. There is a Dog Park Supervisor, and all dogs are assessed before being granted membership to ensure they are non-aggressive. Overall, it's one of the safest dog park experiences you could have, so if your dog is well-suited then proceed with caution and enjoy!
Dog-Friendly Waterfront Views in Tampa Bay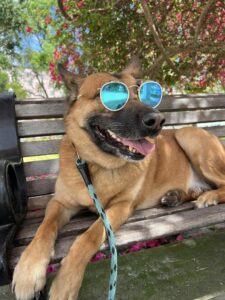 One of the highlights of Tampa Bay is its beautiful waterfront. Whether you're walking, running, biking, or rollerblading, Tampa Bay's waterfront is sure to stun. Here are some popular waterfront spots to complete your daily outing:
Vinoy Park/North Shore Park
This long stretch of waterfront is perfect for a walk, run, or bike ride with your pup. With stretches of shaded grass and plenty of benches for a relaxing break, you won't regret checking out this St. Pete staple. Take the path all the way to Beach Drive and visit a dog-friendly restaurant to complete your outing! You'll often find us taking our town trips with training dogs to this area, so give us a wave!
St. Pete Pier
The new St. Pete Pier is perfect for a leisurely stroll along the water. Grab some food from one of the many places along the pier and take a rest in the shaded park areas. It even features a playground so you can bring your kids along for a day of fun!
Tampa Riverwalk
This iconic Tampa feature provides 2.6 miles of walkway along the water. It also connects to many dog-friendly parks and attractions to make the most of the day.
Shaded Parks and Walking Trails
There's nothing better than a casual stroll through a local park. Luckily, St. Pete is home to a wide selection of parks, almost all of them dog friendly! Just be sure to keep your dog on leash and pick up after them so keep our parks safe and clean. Here are a few of our favorite shaded parks and trails for a walk or bike ride:
Lake Seminole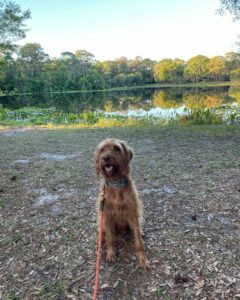 This one-way loop trail is well-shaded and allows you to stick to a paved trail or take detours through more natural trails along the lake. You can also choose the one-mile or two-mile loops depending on your desired difficulty. The one-way nature of this trail means you don't have as much passing and less worry about getting caught in congestion. While the trail does get crowded, it flows smoothly and is a peaceful walk, even at popular times.
Walter Fuller Park
This park features a paved loop around a small lake and recreational facilities such as a pool, playground, picnic pavilions, and sports fields. The dog park offers training opportunities outside, and you'll enjoy watching the wildlife in and around the lake. While popular, it isn't usually crowded and is a peaceful walk under large shade trees.
Abercrombie Park
This unique park features a walking path down to the water and short, quiet, shaded boardwalk paths. Generally not crowded, this park gives the feeling of being immersed in nature just minutes from the main road. The paths and wood features of the park make for great photoshoot opportunities for you and your dog!
War Veterans Memorial Park
War Veterans Memorial Park is the perfect spot for a nature hike close to home. Featuring a few miles of grassy, secluded trail, you can relax and let your dog enjoy the sights and smells. Visit the scattered statues and memorials, or use one of the many pavilions for a leisurely get-together. You can even put a boat or kayak in at the boat ramp and enjoy the water!
Pinellas Trail
The Pinellas Trail is the longest trail around by miles, stretching from Tarpon Springs to St. Petersburg over 45 miles of pavement. The trail has many access points, making it popular for those all along the St. Pete peninsula. It is dog-friendly, and many parts are shaded, making it a great choice for a long walk or bike ride with your dog.
Crescent Lake Park
This easy loop park features a lake, a playground, a dog park, and tennis courts. Set in a quiet suburban neighborhood near downtown, it offers a leisurely stroll partially shaded by trees. An open grassy space provides a great opportunity for a quick game of retrieve or a picnic.
Training and Preparation
From a dog-friendly urban landscape to plenty of adventure on the water and off, Tampa Bay is a fantastic place for us dog lovers. However, this generosity relies on responsible dog owners to keep our cities clean and safe for all. Here at the Doghouse, we train dogs and their owners to tackle the busy and demanding urban environment and tailor the training to your chosen activities. Whether you're interested in restaurant-hopping, boating, off-leash reliability, or just a relaxing walk in the park, we can set you and your dog up for success. Contact us today at info@thedoghousellc.com to set up an appointment!