I've been around dogs all my life! My father, Bill Silva, was an officer at the St. Petersburg Police Department for 25 years. During his career he spent 13 years in the elite K-9 unit. This is when I first discovered a passion for dogs and the art of dog training.
While enrolled in college I volunteered as an interpreter at Florida Dog Guides for the Deaf. While volunteering with this organization I was afforded the opportunity to actively participate in the dog's training process.  These dogs would go on to help improve the quality of life for hearing impaired individuals. I learned the inner workings of different dog training techniques and methods during the time I spent with this agency. Ultimately my skill level increased so rapidly I was hired as a full time employee and trainer.
Following my time training hearing dogs and fueled by my passion for dogs and helping people, I opened my own dog training business. I attended (and throughout my career) numerous dog training seminars and worked with various trainers all over the world to improve my craft.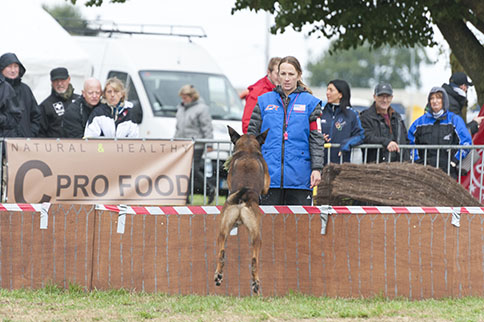 Next, I tested my abilities and took to the competition ring with my dog Ajax Ot Vitosha, where we excelled in French Ring, Mondio Ring* and IPO (formally known as Schutzhund.) During our career as a team, Ajax and I earned the titles of French Ring 2, Mondio Ring 2 and IPO3. In 2009 Ajax and I earned the High obedience title at the 2009 American Working Dog Federation Trial. I am currently training and competing with Ajax's son Genghis Khan Bonds in the sport of Mondio Ring. Genghis and I qualified for a spot on the USA Mondio Ring World Team in Battice, Belgium.
Being classified as an expert dog trainer and handler isn't something that is gained from having a certain amount of clients or even winning dog competitions.
It is about the accumulation of experience and connecting with each individual dog as well as taking the time to understand the dog's needs. It also means, being able to communicate with the dog's owner and understand what they are expecting from their canine companion.
For almost two decades now it has been my passion to understand dog behavior and to use that knowledge to better the lives of my clients with their canine companions. I am committed to create a training method that gives a complete balance of human to dog connection and communication through obedience and understanding of your dog's genetic needs.
With the help of my husband and business partner we have turned my passion into the business we own today. Every dog deserves the chance to be a well-mannered and happy dog. Every human deserves the chance to have that special connection, communication and relationship with their dog that leads to a happy home.
I stand behind my training 100%