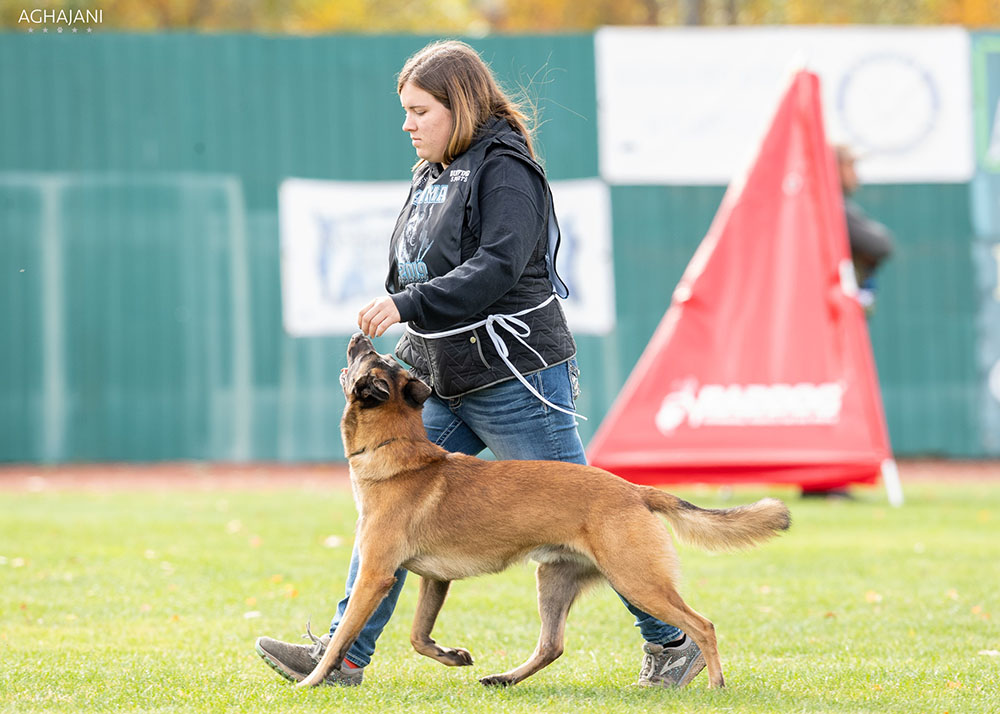 The Doghouse, LLC is proud to announce that one of their trainers, Sam Adams has recently competed with her Belgian Malinois, Wild, at the AWMA Nationals.  This event is hosted yearly around the country and Sam competed against very accredited and seasoned competitors in the sport of IPO (formerly known as Schutzund.)  This was Sam's first national competition and her and Wild did amazing taking 5th place and qualifying for a spot at the World Championship next year in France.
Competing and placing at a National Competition not only shows how talented of a trainer Sam is but also the dedication she has committed over the last few years in training her dog.   IPO has 3 phrases; obedience, protection, and tracking. Each phase in itself requires so much detail and effort especially training in Florida where the summers can be brutal, there's fire ants everywhere for tracking, and the majority of competitions locally have to be held overnight.  
Having access with your pet dog to a trainer who has proven themselves in competing with their own dog and has the diversity to train high drive working line dogs can be such an advantage in helping you understand your dog's needs.  There is not just 1 approach to train obedience or solve behavior issues . Dogs vary with food drives, play drives, predatory drives, needs for outlets, biddability, and thresholds in aggression.  
You have the access to use trainers that philosophize on how to teach aggression, activate drives, and accentuate impulses.  You have to understand and appreciate how to teach those behaviors in order to successfully manage or inhibit them in pet dogs.  The difference between a competitor of dogs and just a trainer of dogs is the connection and depth of a relationship between trainer and individual dog that is critical because the competitor has competed on a field with no leashes, toys, or rewards.  Just the element of being able to connect with a dog's mind based on relationship and the dependence of working as a team.  
Many pet dogs are out of balance, have developed leash reactivity because of frustration, develop aggressive tendencies because they are misunderstood, function daily with impulsive behaviors because they never learned how to control them.  These very "problems" to the average pet owner make absolute sense to a trainer who appreciates how to use these very natural elements of the dog and channel them into constructive outlets and reliable obedience. Behaviors like these are the core of a typical working dog that is confused about their job and begging for somebody to understand their needs and connect with them on a level that they understand.  
Sam and the team at The Doghouse love training and developing "working line dogs."  They represent the few trainers in the area that compete with their own dogs and have qualified for world teams in the sport they train.  When searching for a trainer for your pet dog, don't undervalue this credential for another who has never tested their training by competing.  This field of work gets blurred with other trainers claiming to be "dog whisperers and master dog trainers." That is not a credential, that is a self proclaimed title that anybody can declare.  A place on a world team speaks for itself.  
Great Job Sam and Wild.  Enjoy watching their competition by following this link.